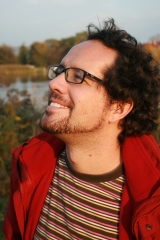 Building:
Nador u. 9, Faculty Tower
Qualifications:
PhD Environmental Sciences and Policy. Central European University, Hungary.
MSc Global Change and Sustainable Development (specialization: Environmental Economics). University of Alcala, Spain.
BSc Environmental Science. University of Alcala, Spain
Academic/Professional Experience and Achievements:
Sergio Tirado (Madrid, 1978) is a researcher at the Center for Climate Change and Sustainable Energy Policy (3CSEP) and PhD graduate of the Environmental Sciences and Policy doctoral program at Central European University (CEU) in Budapest. Under the supervision Prof. Diana Ürge-Vorsatz, my doctoral research has focused on fuel poverty alleviation as a co-benefit of residential energy efficiency (as an example of climate investments) in Hungary. In parallel, I have taken part as a researcher and coordinator in a number of projects commissioned to 3CSEP by the European Climate Foundation (ECF), the European Commission and the Hungarian National Development Agency (NFÜ).
Prior to that, I worked as a research assistant and project coordinator in the Environmental Research Economics Group at the University of Alcala (Madrid, Spain) directed by Prof. Diego Azqueta Oyárzun. There I gained extensive research and applied research management experience in the environmental economics field through a number of projects for key national and international partners such as the Spanish Ministry of Environment, the Spanish Energy Agency or the Inter-American Development Bank.
I hold a Bsc (equiv.) in Environmental Sciences and a Diploma of Advanced Studies (MSc. equiv.) with a specialization on environmental economics both from the University of Alcala (Madrid, Spain). I succesfully defended my PhD dissertation in February 2013.
Academic/research topics:
fuel poverty
co-benefits
energy systems
cost-benefit analysis
economic valuation of welfare changes
Year of enrollment:
2008/2009